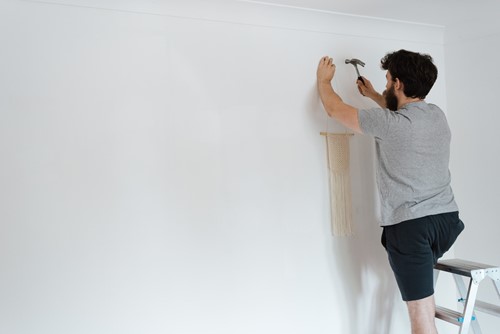 The concept of buying a fixer-upper can tempt brand new homebuyers. For those on a budget who enjoy DIY projects, it might make perfect sense to spend less up front on a home you can fix up yourself. However, there are some disadvantages to consider before making this important choice. Here we will go over the pros and cons of buying a fixer-upper as a first-time homebuyer.
The Pros of Buying a Fixer-Upper
Lower Down Payment - The lower upfront cost is the first thing that might attract you to the idea of a fixer-upper. Homes sold "as is" that require a lot of maintenance will have a lower price than anything nearby. This is because of the desire to sell quickly and the fact that it's expected you'll spend more in construction costs after purchase. For many, this low price means an easy entry into a wide range of possibilities. Also, the relatively low popularity of fixer-uppers means you probably won't have to negotiate and buy at a much higher price. Depending on the area, you might purchase with hardly any competition.
Creative Freedom & Control - With a fixer-upper, you're in charge. You can choose your own contractors, materials, vendors and choose to do as much of the work yourself as you wish. You also have full control over larger-scale decisions like building additions to the home or other major structural changes. Want to emulate a specific architectural style, or open up the layout? These are your choices to make. A fixer-upper is like a blank canvas for many homeowners who want to customize a home completely without starting completely from scratch.
The Cons of Buying a Fixer-Upper
Unexpected Future Expenses - Even knowing that you'll need to spend money on maintenance and remodeling, additional expenses can pile up quickly. As with all construction, it's impossible to predict every potential delay or problem—however, with a fixer-upper, you will probably need to cover all of those costs. A fixer-upper can also be difficult to budget for even without planning for potential issues. Even the most carefully calculated budget for material costs, renovations and other fees won't be completely accurate. For new homeowners on a tighter budget this can pose an enormous risk.
Slow Construction - A fixer upper is typically not a home you can live in right away. Many homes sold as fixer-uppers may not even be safe for habitation per local ordinance because of construction and maintenance needs. If you want to buy a home that you can move into immediately, a fixer-upper will not be your best choice. Regardless of whether you live in the home during the process, the fixing up can take a long time. There will be inevitable delays outside of your control and you will also have to rely on your own energy and time for anything you plan to DIY. Fixer-uppers require patience, and sometimes willingness to live in the middle of a construction zone for months or years.
When trying to decide whether to buy a fixer-upper there are many things to consider. New homeowners especially should weigh the pros and cons of the decision and consult real estate and construction professionals for additional insight. This will help you get a better sense of what is and isn't worth the risk to your budget and your lifestyle.